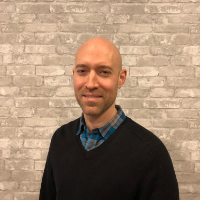 Thomas Pujol
Childrens Pastor
Thomas spent most of his life in various towns in BC, acquiring pastoral experience, a Bachelor of education, Art (English major), and some seminary courses along the way. He then moved to Winnipeg in 2016 and started in his role at Waverley the same year.
Thomas has a great desire to see God glorified in the life of the church by our love for one another. He believes that a vibrant passion for the glory of Jesus Christ will bring about that goal, and all others worth living for. 
Thomas has three boys, Kuvo, Asaph, and Ezra; and has been married for over 5 years to his lovely wife Alana.
On an ideal day, Thomas would enjoy a quiet morning with a good cup of coffee, some sports in the afternoon, and a few board games with friends in the evening.