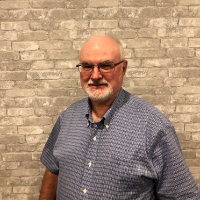 Roland Milanese
Elder
Roland grew up in Dryden, Ontario. He studied theology at London Baptist BIble College, and then linguistics at the University of Texas at Arlington. He taught English as a second language in Toronto, and then later in Winnipeg. He met his wife Connie on a church camping trip at Bon Echo Provincial Park. The Lord has blessed them with two sons.
Roland has served the Lord at Waverley in adult Bible studies, volunteer English teaching, and grounds and building maintenance. The Lord has now given him the opportunity to serve as an elder.
One Scripture passage from which he finds inspiration is Isaiah 32:8 – "The Noble Man plans noble plans, and by noble deeds He stands."
Roland enjoys watching foreign language television serials, playing billiards, wood working, going on road trips, and spending time with family and friends.