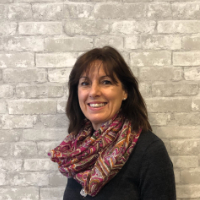 Leslie Alvaro
Deacon
Leslie was born into a strong and committed Christian family. She accepted Jesus as her Saviour when she was 6 years old and grew to understand the meaning of salvation, living in Christ, and the eternal hope we have in Him. When she was baptized, her pastor gave her Ephesians 2:10, "For we are God's handiwork, created in Christ Jesus to do good works, which God prepared in advance for us to do." This verse has guided her serving for the Glory of God.
Leslie has been married to Rubén for 36 years. They have 4 adult children, one boy and three girls and four beautiful granddaughters. They have been living in Canada for 33 years after emigrating from Argentina. Leslie and Ruben have been members of Waverley Church for 15 years.
Leslie really enjoys time with family, traveling, volleyball and being active outdoors as she enjoys God's creation.
John Wesley said, "Do all the good you can, by all the means you can, in all the ways you can, in all the places you can, at all the times you can, to all the people you can, as long as ever you can."